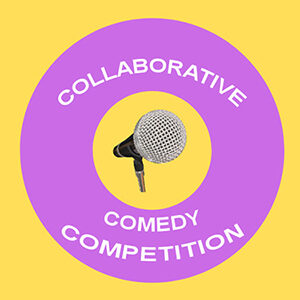 Collaborative Comedy Competition is a comedy show with a twist. After warming up with their regular sets, our 4 competing comedians will compete in head to head matchups on topics submitted by the audience when they purchase their tickets until one comic is left standing. The catch is comics will only find out the topics for each round at the start of the show. At the end of each round, the audience picks the winner based on who they feel did the best job on the topic. The winner comes back to defend their title against new competitors until they are defeated.
Every 2nd Tuesday (see ticket section below for specific dates)
Doors open at 6:30PM. Show runs from 7:30PM-9PM
We invite you to join us for a bite to eat & drinks before the show.
CoBrie Restaurant & Catering
2121 Carling (inside Carlingwood Shopping Centre – Entrace 4)
As the mall closes at 7PM, if you are arriving after 7PM you can use the back entrance to the restaurant or if you require a level entrance and can't get in, please call CoBrie at (613) 680-5040 and someone will open it for you. (It may be locked from the outside but can be opened from the inside.)

(Please note can only buy tickets for one show at a time.)

Commitment to Accessibility

CoBrie Restaurant is wheelchair accessible through the mall at Entrance 4. (There is a step in the back of the restaurant to get in.) As the mall closes at 7pm, you can't come in after 7PM. We are working with the mall and security to leave the door unlocked at least until 7:30PM. In the event you have any issues getting in, please call CoBrie Restaurant and Catering at (613) 680-5040 and someone will be happy to assist you.

While the restaurant washrooms are downstairs, there are 2 Family/Accessible/Gender Neutral washrooms in the Carlingwood Shopping Centre.

Should you require the assistance of an attendant at the show, or someone to provide ASL translationn for you, there is no need to purchase a separate ticket for them. Simply contact us and let us know and we will set aside a ticket for them.

COVID-19 Safety Protocols

While we are eager to entertain you, if you are feeling unwell we ask you to please stay home. You can give your tickets to a friend or simply contact us and let us know you were feeling unwell and we will give you a credit to come to another show when you are feeling better.
Barring a medical issue that prevents them from doing so, all audience members and comics are expected to wear a mask when they are not eating, drinking or performing. Please note that as CoBrie is in a shopping centre, you are expected to wear the mask as soon as you enter the shopping centre.

Appropriate measures are also being taken with respect to microphones to ensure the safety of the comics.

Capacity will be limited to allow proper social distancing.
To minimize the handling of cash, we ask to the extent possible people reserve their tickets online (see above). Payment options include credit card or etransfers.